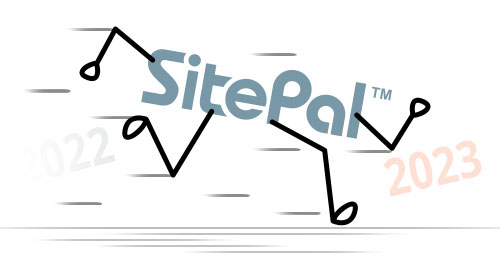 Hello SitePal Fans!
As 2022 is coming to a close, we're so excited to look back and consider all that we've accomplished this year – and the many new SitePal users we've welcomed on board.
Welcome all!
With so many product updates added in the past 12 months, we thought we'd give you a quick run down – just in case you missed some of them (and also because we're so proud of what we've done…! ).
So here goes – just the highlites:
Photoface Automated Image Masking
When creating a 3D character from your photo, you no longer need to spend time painstakingly outlining the outline of the persona. This task has been automated, so you can try out different images quickly!
Support for React, Angular and Vue Frameworks
Using NPM packages it is now a snap to integrate SitePal in your web project.
Audio Playback Limits – Removed
No more 90 seconds limit! Assign multiple audios to your Scene to be spoken in sequence. Or – if you are using the TTS API, you can now feed in text as long as you like. The 900 character limit has been removed.
New Tutorial Videos
Our new "Getting Started" tutorials are short (8 and 12 minutes respectively) but are jam packed with useful info and tips – and get you on board in no time.
"No-Javascript" Embed
You can now publish your SitePal to those pesky blogs or CMS or LMS systems that do not permit Javascript code. Yes – for real!
Subtitles Now Supported
Add text subtitles to your speaking character, in any language. The character & the displayed text conform responsively to the available space!
Speech Recognition Integration Example
Speak to your SitePal character – and it responds. How cool is that?
With full source code available – you can build your own!
3rd Party Integration – Pandorabots
Integration with Pandoarabots intelligent agents is now built-in. Just add your PB api key to your SitePal account – and your speaking character will be connected to your Pandorabots smarts. Now that's intelligent! (with more integrations to come)
New User Interface
The new user interface improves usability and clarifies all aspects of SitePal use – as so many customers have told us!
And…. we've not even mentioned the huge cast of new characters we've added this year. Do check them out.
As always – we're actively working on new features & capabilities to be added soon… Stay tuned for more information.
Happy Hollidays!
The SitePal Team
www.sitepal.com
"What does your site say?"
ps. If you are looking to get started with SitePal, or it's been a while since you used SitePal (so much has changed…) we encourage you to check out our new video tutorials, available on our support page here – www.sitepal.com/support